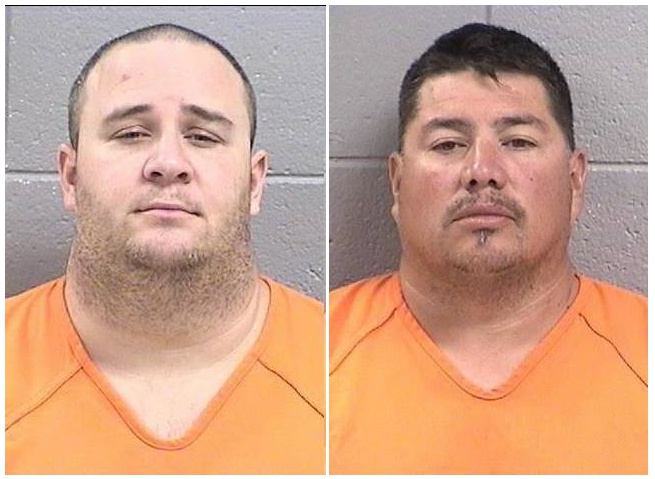 Logan Crockett (L), Nelson Murdock (R)
In conjunction with the investigation by the Attorney General's Office, detectives with the San Juan County Sheriff's Office, (along with Officers from both the Farmington and Bloomfield Police Departments) an online operation was conducted by targeting men that were looking to solicit women for the purpose of paying for sex. During this investigation, two men were arrested. One of the men was identified as Logan Crockett, he offered to pay for sex with a 15-year-old girl and was charged with child solicitation by electronic communication device and child abuse for leaving his 4-year-old child
From the San Juan County Sheriff's Office:
On Tuesday, August 29th, 2017, agents with the New Mexico Attorney General's Office conducted an undercover operation at Massage Asia, located at 913 W. Apache Dr. The undercover agent was solicited for sex by a female employee and a search warrant was executed at the business the following day. Massage Asia and the Blue Home Spa, located at 202 N. Locke Ave, are owned and operated by the same individual. On the day of the undercover investigation, the Blue Home Spa was not open for business and charges were filed on the owner and female worker of Massage Asia for promoting prostitution. This investigation is currently ongoing.
In conjunction with the investigation by the Attorney General's Office, detectives with the San Juan County Sheriff's Office, (along with Officers from both the Farmington and Bloomfield Police Departments) an online operation was conducted by targeting men that were looking to solicit women for the purpose of paying for sex. During this investigation, two men were arrested. One of the men was identified as Logan Crockett, he offered to pay for sex with a 15-year-old girl and was charged with child solicitation by electronic communication device and child abuse for leaving his 4-year-old child home alone to commit the crime. The second man was identified as Nelson Murdock, he was arrested and charged with a first offense of soliciting a prostitute, which is a petty misdemeanor in the state of New Mexico.