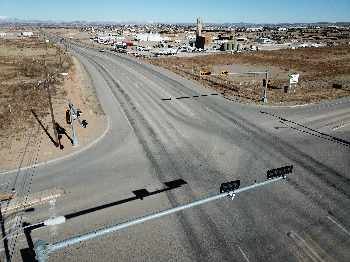 New traffic light at CR 350 & CR 3720 (3100) on Crouch Mesa
The stoplights were installed on traffic signal arms which previously flashed yellow lights for north/south traffic and flashed red lights for east-west traffic. The installation of the traffic signal comes after a traffic study showed that the vehicle volume through the intersection met warrants as set by the Federal Highway Administration's Manual on Uniform Traffic Control Devices. The eight-hour Vehicular Volume count is the controlling warrant for traffic signal control at the intersection. Road 350 is one of the most heavily-traveled San Juan County maintained roadways. The Farmington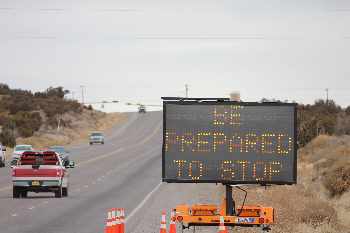 From San Juan County:
Wednesday, January 8, 2020
Drivers will be seeing a new stoplight at the intersection of Road 350 and Road 3720 (Road 3100), at the top of Crouch Mesa, starting Monday, January 13, 2020.
The stoplights were installed on traffic signal arms which previously flashed yellow lights for north/south traffic and flashed red lights for east-west traffic.
The installation of the traffic signal comes after a traffic study showed that the vehicle volume through the intersection met warrants as set by the Federal Highway Administration's Manual on Uniform Traffic Control Devices. The eight-hour Vehicular Volume count is the controlling warrant for traffic signal control at the intersection.
Road 350 is one of the most heavily-traveled San Juan County maintained roadways. The Farmington Metropolitan Planning Organization reported an Annual Average Daily Traffic of 6,300 vehicles in 2018.
The light was installed and will be maintained by the City of Farmington Traffic Engineering Department. San Juan County uses an intergovernmental agreement between San Juan County and the City to contract for such work. The cost of the installation was approximately $100,000.
The San Juan County Sheriff's Office will begin enforcement at that signal immediately, drivers should expect to obey the traffic signal or face the penalty. Failure to Obey Traffic Control Devices is a violation carrying an $82 penalty, plus court fees.
Any questions about the new traffic signal can be directed to San Juan County Public Works at (505) 334-4520.