Nick Michael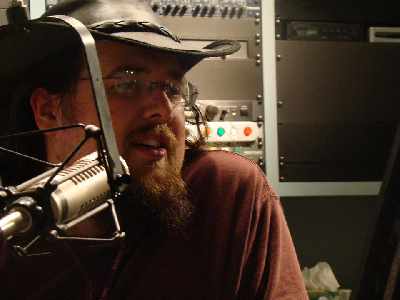 For over a decade, Nick Michael, has been serving the production side of KSJE's air schedule, editing both national and local programming. In addition, he hosts both the GROOVE CAFÉ, Monday through Friday from 3-4 in the afternoon, A REVIEW TOO FAR, Thursdays at noon, and ROGUE MACHINATIONS, Saturdays at 11 p.m.
GROOVE CAFÉ highlights the best of the old while constantly searching for new and kicking beats from the cutting edge of Modern Jazz. Be on the lookout for funky trip-hop and acidic tracks sandwiched between classic bebop sets to satisfy your appetites. A REVIEW TOO FAR is a half hour talk program where he and his cohosts review and recommend (or not!) both new releases and the films of yesteryear. ROGUE MACHINATIONS tries to tap into the current dance scene to find what's hot in the world of Electronic Music.
Music-wise, Nick's influences and tastes are based on both his parent's Jazz inclinations and the very diverse sounds that poured out of the Atlanta music scene in his youth. As for movies, being a part of A REVIEW TOO FAR means he watches pretty much everything, though his passions tend to run towards Anime and Hard Sci-Fi.
Farmington, NM

Heavy Rain

High: 45°F | Low: 36°F

Durango, CO

Sleet

High: 43°F | Low: 27°F

Shiprock, NM

Heavy Rain

High: 48°F | Low: 34°F

Cortez, CO

Sleet

High: 45°F | Low: 27°F

Santa Fe, NM

Sleet

High: 39°F | Low: 30°F