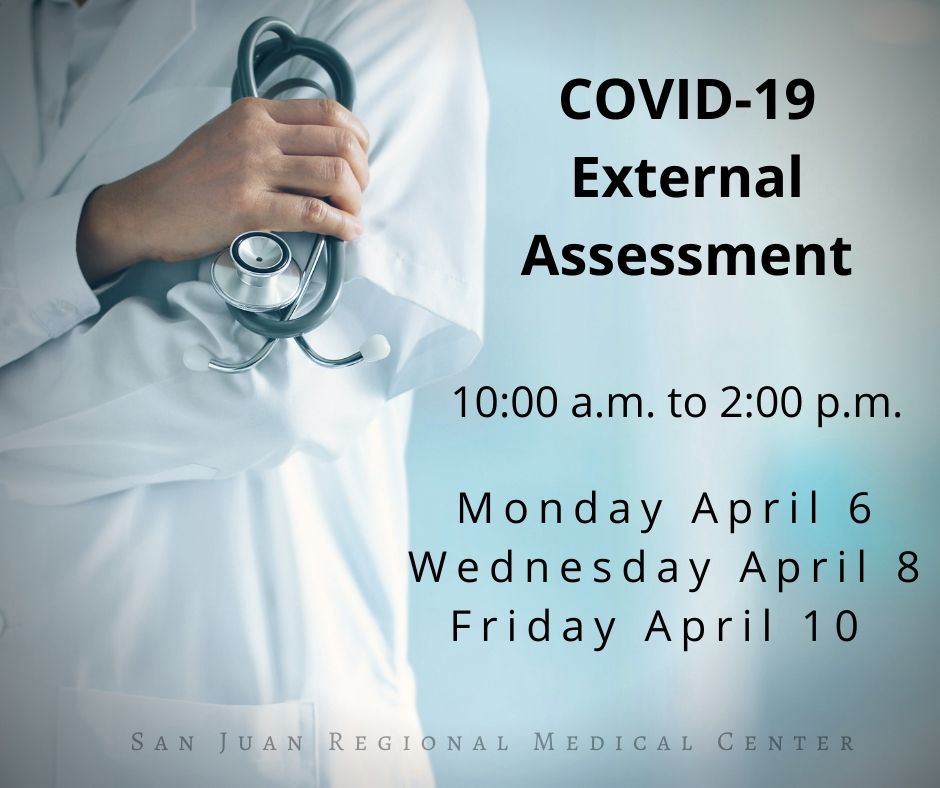 Instead of visiting our Emergency Department or one of our many offsite healthcare clinics, patients experiencing flu/cold-like symptoms including fever, cough, body aches, sore throat and runny nose visit this assessment area to be evaluated and treated if necessary, this includes consideration for COVID-19 testing. Signs will be posted in the parking lot to guide patients and provide them with a registration phone number to call. Patients will need to have their ID and insurance information with them. The goal is to meet our community needs and assess those patients with minor symptoms to
From San Juan Regional Medical Center
Sunday, April 5, 2020
San Juan Regional Medical Center's External Assessment continues Monday April 6; Wednesday April 8; Friday April 10 from 10:00 a.m. to 2:00 p.m. Please, ONLY those exhibiting flu/cold-like symptoms including fever, cough, body aches, sore throat and runny nose should come to the External Assessment. For a map to the External Assessment area and more local COVID-19 information please visit: http://bit.ly/2PRUSib
Anyone needing questions answered regarding COVID-19 screening should call our COVID-19 Screening Line between 8:30 a.m. to 4:30 p.m. Monday through Friday.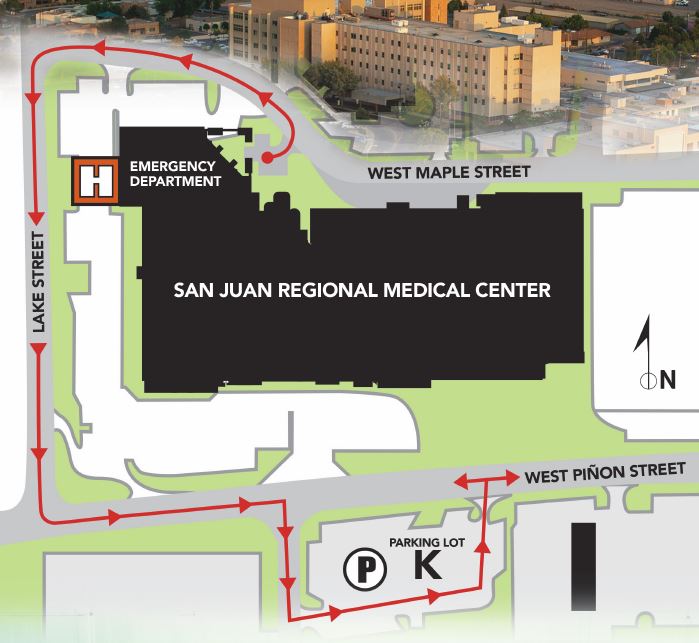 This is a drive through assessment area located in one of San Juan Regional Medical Center's parking lots on West Pinon Street across the street from the hospital. It is only for those with flu/cold-like symptoms: fever, cough, body aches, sore throat and runny nose. Patients experiencing these symptoms can drive through this assessment area to be evaluated and treated if necessary; this includes consideration for COVID-19 testing. Testing is at the discretion and judgement of the provider performing the assessment and will be reserved for those in certain high risk groups. Patients without symptoms should not come to the assessment and do not need testing for COVID-19.
Signs will be posted in the parking lot to guide patients and provide them with a registration phone number to call. Patients will need to have their ID and insurance information with them. Please place your trust in us as medical professionals who are working so hard to protect and treat our community and only come to the assessment if you are currently exhibiting COVID-19 symptoms.
Please see your primary care provider for clearance to return to work or other routine healthcare needs. Doing so will allow us to assess those exhibiting flu/cold-like symptoms and our most vulnerable population. If you don't have a primary care provider, contact the state of New Mexico's 24/7 hotline at 855.600.3453.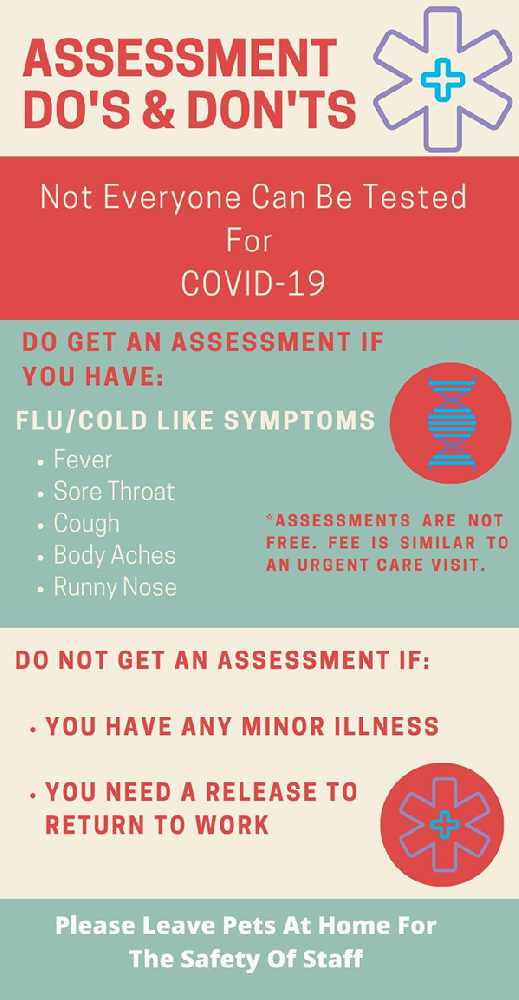 It is also critical that those who DO have symptoms of COVID-19 do NOT enter medical facilities without first contacting them, especially emergency departments. Unless you have serious, emergent symptoms, you should not enter emergency departments.
What: Drive through assessment area
Who: Only those patients experiencing flu/cold-like symptoms including fever, cough, body aches, sore throat, runny nose and any other flu/cold-like symptoms.
When: Monday, March 30, Wednesday, April 1 and Friday, April 3 from 10:00 a.m. to 2:00 p.m.
Where: Parking Lot K of the SJRMC Campus – located on West Pinon Street next to San Juan Health Partners Midwifery and Women's Health
For the latest updates from San Juan Regional Medical Center on COVID-19, please visit our website at www.sanjuanregional.com/coronavirus, follow us on social media or call our coronavirus information hotline at 505.516.0938 or toll free at 888.949.5387.