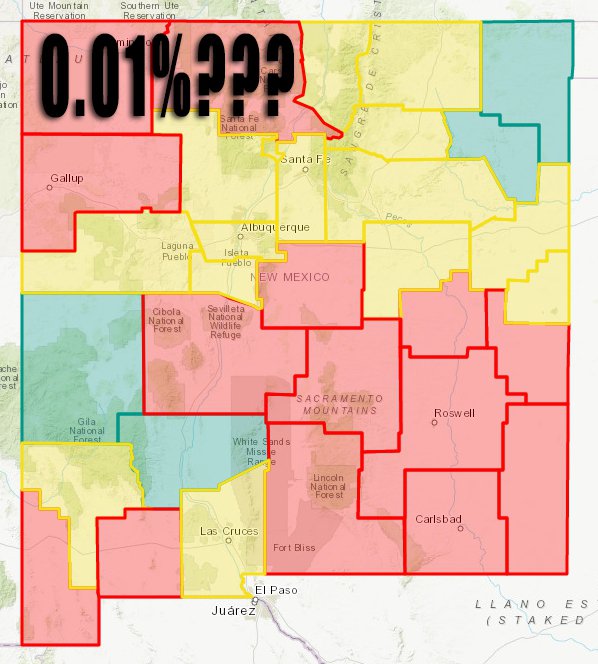 (Image courtesy San Juan County)
The request from San Juan County and the City of Farmington comes as the state announces San Juan County missing moving from Red to Yellow on the NM Department of Health's COVID-19 map by scoring 0.01% above the state's positivity rate threshold. The communities have asked the state for their sources to verify the data use to make this calculation.
From San Juan County
Thursday, February 11, 2021
This morning San Juan County and the City of Farmington have each filed a request under the Inspection of Public Records Act with the NMDOH to inspect and verify the data used to calculate the test positivity rate. Both governments believe that the residents of San Juan County deserve fair, accurate, and transparent reporting when the threshold is missed by what could amount to a rounding error, one less positive case, or 15 more negative tests.
The county's reported test positivity of 5.01% is a drastic decrease from 12.17% reported on January 27 and proves that not only are residents of San Juan County committed to stopping the spread of COVID-19 but COVID safe practices are being implemented and working. Further, statistics reported on the NMDOH COVID vaccine dashboard this morning indicate that San Juan County ranks second in the state for total vaccines delivered. We hope the state recognizes this improvement and that it would be considered when assigning a red or yellow status.
Further, according to data available on the NMDOH's website, our calculations reflect a positivity rate of less than 5%. We can provide the numbers we used, but they are available from the NMDOH COVID-19 public dashboard.
Representatives of Farmington and San Juan County have been in touch with various state officials to try and gain some insight into the data and continue to advocate for San Juan County's struggling small businesses.
The state has 3 days to respond to this IPRA request