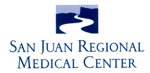 Projects that will be funded by this effort include: -A new fixed-wing aircraft for AirCare aeromedical services -A linear accelerator for the Oncology program -New information technology infrastructure -State-of-the-art inpatient beds -Upgrades to the nurse call system
From San Juan Regional Medical Center
Thursday, October 8, 2020
San Juan Regional Medical Center is pleased to announce that it has completed a $42.5 million municipal bond refunding and refinancing initiative. This project provides roughly $20.5 million in refinancing of older, higher cost debt as well as $22 million in capital project monies, which will save our community approximately $1.5 million in interest expenses. In addition, this project allows the hospital to purchase new equipment and technology through the New Mexico Hospital Equipment Loan Council.
"San Juan Regional Medical Center is grateful for the support of the New Mexico Hospital Equipment Loan Council for financing our capital needs on a wide variety of projects that align with our dedication to serve our community as the region's only community-owned and operated hospital," San Juan Regional Medical Center President and CEO Jeff Bourgeois said. "We thank the Council for its long history of commitment to financing healthcare needs across New Mexico, impacting countless lives."
Projects that will be funded by this effort include:
A new fixed-wing aircraft for AirCare aeromedical services

A linear accelerator for the Oncology program

New information technology infrastructure

State-of-the-art

in

patient beds

Upgrades to the nurse call system
"This project's completion is a significant and meaningful step in the reduction of interest expense as well as improvements in patient access and investment in our clinical capabilities," said John Mayer, San Juan Regional Medical Center Chief Financial Officer. "We are always looking for opportunities to reinvest and improve our abilities to deliver on our core values of Sacred Trust, Personal Reverence, Thoughtful Anticipation, Team Accountability and Creative Vitality for the community we serve daily. We are thrilled to have delivered this accomplishment for our friends and neighbors."
As projects funded by this effort are completed, San Juan Regional Medical Center will keep our community updated.