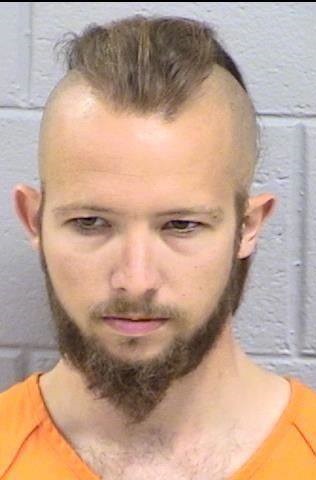 Ryan Lente (Courtesy: San Juan Co. Sheriffs Office)
Detectives performed a forensic examination of Lente's cell phone and after the interview Lente was charged with the following: 4 counts of sexual exploitation of children (by manufacturing) (a 2nd degree felony), 4 counts of sexual exploitation of children (causing or permitting to engage in act, under 18) (a 3nd degree felony), 8 counts of criminal sexual penetration of minor in the 4th degree (child 13 to 16 years of age) (a 4th degree felony), sexual exploitation of minor (possession) (4th degree felony), 6 counts of contributing to the delinquency of minor (a 4th degree felony) and 2 coun
From the San Juan Co. Sheriffs Office
Friday, November 1, 2019
At approximately 12:35 p.m. on October 31, 2019 detectives with the San Juan County Sheriff's Office were at a residence near the intersection of New Mexico Highway 170 and County Road 1800 near Jackson Lake to conduct a search warrant. A man identified as 24-year-old, Ryan Lente fired one round from a firearm into the ground as detectives were in the doorway of the home. No one was injured, and there were no shots fired by law enforcement. Detectives immediately took Lente into custody without incident and he was transported to the Sheriff's Office for an interview. The search warrant was executed immediately after taking Lente into custody and his cell phone was seized.
Detectives performed a forensic examination of Lente's cell phone and after the interview Lente was charged with the following: 4 counts of sexual exploitation of children (by manufacturing) (a 2nd degree felony), 4 counts of sexual exploitation of children (causing or permitting to engage in act, under 18) (a 3nd degree felony), 8 counts of criminal sexual penetration of minor in the 4th degree (child 13 to 16 years of age) (a 4th degree felony), sexual exploitation of minor (possession) (4th degree felony), 6 counts of contributing to the delinquency of minor (a 4th degree felony) and 2 counts of enticement of a child (a misdemeanor). Lente is facing up to 123 years in prison if convicted on all charges.
The Sheriff's Office would like to remind the public that all arrests are public record in the state of New Mexico and that all persons are presumed innocent until proven guilty in a court of law. The Sheriff's Office would also like to remind community members to be cautious of who they allow their children to spend time alone with, to avoid potentially dangerous encounters. If you are worried your child was a victim of sexual abuse, please contact dispatch at 505-334-6622 and ask to speak with a Detective. The public is also encouraged to report suspected child predators and any suspicious activity to the National Center for Missing and Exploited Children (NCMEC) 1-800-THE-LOST (1-800-843-5678).