A Christmas Carol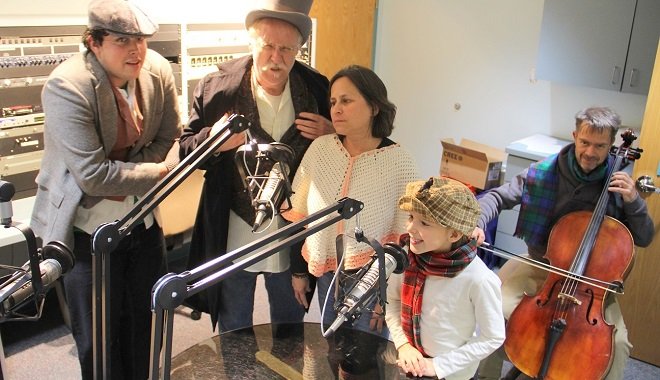 Returning again this season:
San Juan College students and community members bring the favorite story "A Christmas Carol" alive on KSJE radio. Under the direction of San Juan College theater director Mollie Mook Fiddler, listen and be transported back in time more than 100 years.
Pictured (L-R) Syd Neylan, Charles Pike, Jeanne Kofron, Devyn Erikson, Hans Freuden
The 2016 Broadcasts of "A Christmas Carol" are dedicated to San Juan College Theater Director Mollie Mook Fiddler.
San Juan College radio station KSJE 90.9FM will rebroadcast the locally produced radio drama "A Christmas Carol" several times this holiday season. The first broadcast will take place Thanksgiving night, Thursday, November 24, 2016 at 7pm.

The program can be heard at 90.9FM or streaming at www.KSJE.com

Other airdates include:

Sunday, December 11, 2016 at 1pm

Sunday, December 18, 2016 at 2pm

Saturday, December 24, 2016 at 8pm.

Sunday, December 25, 2016 at 2pm
Starring:
Scrooge: Charles Pike
Narrator: Scott Michlin
Marley Ghost: Mike McDonald
Announcer: Ed Hasenbalg
Ghost of Christmas Present: Pam Hyder
Ghost of Christmas Past: Jason Cowell
Scrooge's Kind Nephew Fred: Ben Childers
Belle: Caleigh Benally
Bob Cratchit: Syd Neylan
Mrs. Cratchit: Jeanne Kofron
Poole: Trey Benally
Mr. Fezziwig: Tim Bagley
Martha Cratchit: Brynna Matthews
Fanny Scrooge: Mattea Tyler
Tiny Tim : Devyn Erikson
Peter Cratchit: Justin Hight
Belinda Cratchit: Aly Childers
Kate: Brynna Matthews
Boy Caroler/Buck/Young Scrooge: Bear Schacht
Lamb: Ed Hasenbalg
Farmington, NM

Light rain shower

High: 48°F | Low: 23°F

Durango, CO

Heavy snow shower

High: 46°F | Low: 18°F

Shiprock, NM

Light rain shower

High: 50°F | Low: 21°F

Cortez, CO

Heavy snow shower

High: 46°F | Low: 14°F

Santa Fe, NM

Sleet

High: 43°F | Low: 27°F