The Bravo Vail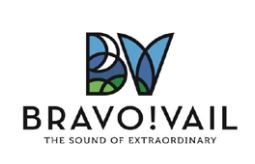 Bravo! Vail is a destination for innovative programming, top talent, a matchless chamber music series, and is the only Festival in North America to host three world-renowned symphony orchestras—the New York Philharmonic, the Philadelphia Orchestra and the Dallas Symphony Orchestra—in a single season. For six weeks every summer, internationally acclaimed soloists, ensembles, and chamber music artists come together in an eclectic and engaging chamber music series with programs of the great classics and tantalizingly new works.
The Bravo Vail! 2014 radio special will focus on the exciting chamber series. "Each season, the Bravo! Vail Chamber Music Series brings together artists who share the same passion for chamber music; the intensity of these groups creates a fresh sense of energy and inspiration rarely found in other settings," says Anne-Marie McDermott, artistic director of Bravo! Vail. "Audiences can expect many firsts for Bravo! Vail, including the stellar percussion ensemble, Third Coast Percussion, whose concert marks the first time percussion will be highlighted in the series." Bravo Vail! 2014 will also include solo piano works performed by Anne-Marie McDermott in addition to her collaboration with the acclaimed Calder Quartet, the riveting young ensemble Le Train Bleu, and the vibrant Third Coast Percussion. The concerts feature music that is both familiar and new, including exceptional performances of recent works by contemporary American composers Christopher Rouse, Charles Wuorinen, and John Adams. And classic works of Haydn, Ravel, and Bartok will also be featured in this program.
Assignment

12:05pm - 12:30pm

A weekly current affairs program which reports from locations around the world, telling the world's stories from the point of view of those most affected by them - the victims, the witnesses as well as the perpetrators.
Farmington, NM

Light rain

High: 46°F | Low: 25°F

Durango, CO

Sleet

High: 43°F | Low: 23°F

Shiprock, NM

Light rain

High: 50°F | Low: 25°F

Cortez, CO

Sleet

High: 43°F | Low: 19°F

Santa Fe, NM

Light rain shower

High: 43°F | Low: 25°F