Shanghai Symphony Orchestra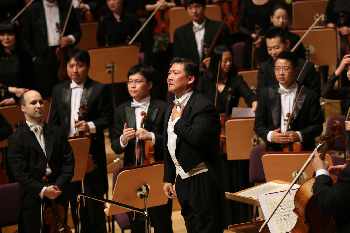 Host Hoyt Smith, of KDFC San Francisco, and Maestro Long Yu present the Shanghai Symphony Orchestra (SSO) alongside an all-star line-up of soloists, including Lang Lang, Maxim Vengerov, Yo-Yo Ma, Yujia Wang and Christian Tetzlaff. Guest conductors include Zubin Mehta, Sir Andrew Davis, Osmo Vänskä, Daniele Gatt and Paavo Järvi.
Culminating in highlights from the inaugural Shanghai Isaac Stern International Violin Competition, the final SSO broadcast in this 13-part series will present the $100,000 grand prize-winning performance of the Shostakovich Violin Concerto No.1. The series also offers performances from the orchestra's pioneering young artists program, the Shanghai Orchestra Academy, operated by the SSO in partnership with musicians from the New York Philharmonic.
The Shanghai Symphony Orchestra has a history of firsts: it was Asia's first symphony orchestra, and gave the Asian premieres of works by Beethoven, Brahms, Tchaikovsky, Strauss, Mozart, Mendelssohn, and more — many of the giants in classical music. Long Yu has served as Music Director of the Shanghai Symphony since 2009, and regularly appears as a guest conductor with orchestras around the world.
Farmington, NM

Sunny

High: 50°F | Low: 19°F

Durango, CO

Sunny

High: 48°F | Low: 18°F

Shiprock, NM

Sunny

High: 50°F | Low: 23°F

Cortez, CO

Sunny

High: 52°F | Low: 25°F

Santa Fe, NM

Sunny

High: 52°F | Low: 30°F