Deutsche Welle: Festival Concerts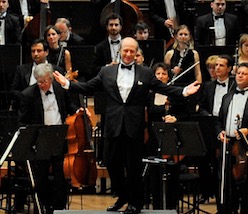 DW Radio is thrilled to announce 26 brand new episodes of Deutsche Welle Festival Concerts for 2016/2017. Festivals host Rick Fulker will transport your listeners to some of the most exciting classical concerts of Germany's festival season. As always, our music series finds a way to mix the old and the new, from mainstream to contemporary; from Bach to Ives.
With half of the world's opera houses and with more symphony orchestras than the rest of Europe combined, where else on the planet but Germany could your listeners find more musical excitement and diversity?
In the first 13 programs of this 26-part series, two festivals: the Beethovenfest in Bonn and the Bachfest in Leipzig - celebrate the special connection between composers and their cities. The Ural Philharmonic and conductor Theodor Currentzis both reside on Europe's eastern edge, but have been sending musical tremors across the continent. The city of Cologne has both an imaginative early music festival and one celebrating the 20th century – the most diverse in music history. The series also showcases the 30-year-old Lithuanian conductor Mirga Gražinyte-Tyla and the new Cantor of St. Thomas' Church in Leipzig, Gotthold Schwarz.
Farmington, NM

Sunny

High: 50°F | Low: 19°F

Durango, CO

Sunny

High: 48°F | Low: 18°F

Shiprock, NM

Sunny

High: 50°F | Low: 23°F

Cortez, CO

Sunny

High: 52°F | Low: 25°F

Santa Fe, NM

Sunny

High: 52°F | Low: 30°F