Dallas Symphony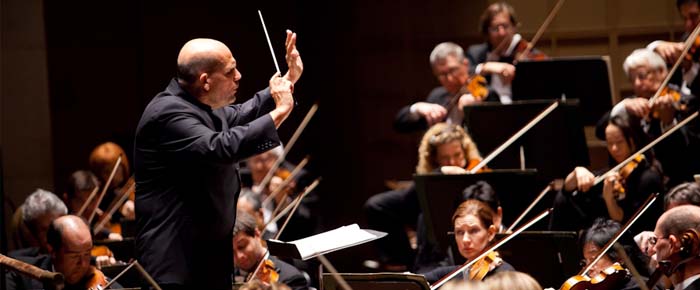 Hosted by Wade Goodwyn, National Public Radio's Texas correspondent, the Dallas Symphony Orchestra Broadcasts is a 13-part radio series featuring performances recorded live at the Morton H. Meyerson Symphony Center in Dallas, Texas under the direction of Jaap van Zweden. Guest artists on the program include Yefim Bronfman, Emanuel Ax, Peter Serkin, Alisa Weilerstein, Augustin Hadelich, and more. Highlights of the series are the Dallas homecoming performance of Bartok's Bluebeard's Castle (a work given its North American premiere in Dallas), Bernstein's Symphony No. 3, "Kaddish", Mozart's beloved Requiem and a performance of Mahler's Symphony No. 3, called "the best thing I've heard from van Zweden, and I've heard a lot of incredible performances under his baton" by The Dallas Morning News.
The Dallas Symphony Orchestra, under the leadership of Music Director Jaap van Zweden, presents the finest in orchestral music at the Morton H. Meyerson Symphony Center, regarded as one of the world's premier concert halls. As the largest performing arts organization in the Southwest United States, the DSO is committed to inspiring the broadest possible audience with distinctive classical programs, inventive pops concerts and innovative multi-media presentations. Each year, the orchestra reaches more than 270,000 adults and children through performances, educational programs and community enrichment initiatives.
The DSO performs more than 175 public concerts each year, including the 18-week Texas Instruments Classical Series and a 9-week DSO Pops series. The orchestra performs free Dallas Symphony Parks Concerts in neighborhoods around the City of Dallas, and the DSO on the Go series takes the orchestra to concert halls in communities across North Texas. The DSO's award-winning youth education programs enhance community ownership by building new and diverse audiences for the future.
The orchestra's summer residency at the Bravo! Vail music festival as well as invitations to prominent events, such as the 2011 Spring for Music Festival at Carnegie Hall and a European Tour in March 2013, have elevated the orchestra's national and international recognition. The orchestra returns to Europe in April 2015.
The DSO has a tradition dating back to 1900, and it is a cornerstone of the unique, 68 acre Arts District in downtown Dallas that is home to multiple performing arts venues, museums and parks; the largest district of its kind in the nation. Maestro van Zweden's music directorship continues the Dallas Symphony's rich history of leadership by eminent conductors, including Andrew Litton, Eduardo Mata, Louis Lane, Max Rudolf, Anshel Brusilow, Donald Johanos, Sir Georg Solti, Paul Kletzki, Walter Hendl, and others.
Under Maestro van Zweden, the orchestra has released five CDs on the DSO Live label, including Mahler 6 and the world premiere recording of Steven Stucky's concert drama August 4, 1964, nominated for a Grammy award. DSO Live recordings are distributed internationally through Naxos.
The DSO is supported, in part, by funds from the Office of Cultural Affairs, City of Dallas.
Farmington, NM

Sunny

High: 50°F | Low: 19°F

Durango, CO

Sunny

High: 48°F | Low: 18°F

Shiprock, NM

Sunny

High: 50°F | Low: 23°F

Cortez, CO

Sunny

High: 52°F | Low: 25°F

Santa Fe, NM

Sunny

High: 52°F | Low: 30°F