Scott Michlin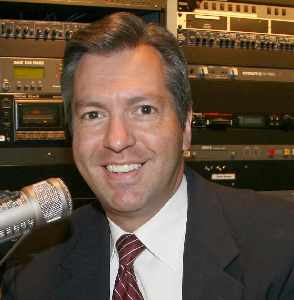 Scott Michlin is almost a San Juan County native. He has called the area his home almost continually since 1989. Scott is the General Manager of KSJE 90.9FM, San Juan College's public radio station. He hosts a one hour talk show with local community leaders every weekday morning at 8am.
Before coming to the radio station in the spring of 2007, Scott was the longtime news anchor and the news director of the Farmington's local television station. He is no stranger to San Juan College, however. Scott continues to be an adjunct instructor at the college, something he has done since 1990. He teaches Survey of Mass Media, Writing for Mass Media and Public Speaking classes.
In addition to his professional duties, Scott is active in the community. He is a board member of the San Juan United Way and served as the United Way Campaign Chairman in 2006. He is also a past president and past board member of the Farmington Museum Foundation, and serves as emcee of many annual community events including the Freedom Days Ice Cream Social at the Farmington Children's Museum, the Freedom Days Parade and the Farmington Christmas Parade.
Scott grew up in the small town of Sodus (pop. 2500) outside of Rochester, New York and attended college in Buffalo, New York. He has a Bachelor of Arts degree in Journalism, Broadcasting and Speech from Buffalo State College. In 1996, Scott moved to Salisbury Maryland to become a television news director but returned to Farmington 14 months later.
Farmington, NM

Thundery shower

High: 72°F | Low: 45°F

Durango, CO

Sunny intervals

High: 66°F | Low: 41°F

Shiprock, NM

Sunny intervals

High: 73°F | Low: 48°F

Cortez, CO

Sunny intervals

High: 72°F | Low: 43°F

Santa Fe, NM

Sunny intervals

High: 72°F | Low: 50°F