Swingin' Down the Lane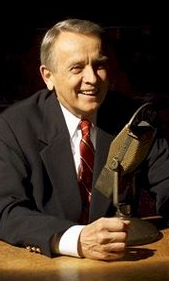 From host David Miller: We're dedicated to keeping the big band sound alive and well. Big bands have been around since the 1920's, and the recent interest in swing music has rekindled the flame. New generations are thrilling to Benny Goodman, Artie Shaw, Count Basie, Tommy Dorsey, Glenn Miller and of course the illustrious Duke Ellington.
I've been an ardent fan of the big bands all my life. As a child growing up in New Jersey, I set my radio dial to WNEW, where "Make Believe Ballroom" featured a constant stream of recordings by big bands and their vocalists.
Swing music went into hibernation for a while, as vocalists like Frank Sinatra, Ella Fitzgerald, Rosemary Clooney and Perry Como stole the spotlight away. Determined to keep the old sound alive, I accumulated a collection of over 9,000 recordings.
Farmington, NM

Sunny

High: 50°F | Low: 19°F

Durango, CO

Sunny

High: 48°F | Low: 18°F

Shiprock, NM

Sunny

High: 50°F | Low: 23°F

Cortez, CO

Sunny

High: 52°F | Low: 25°F

Santa Fe, NM

Sunny

High: 52°F | Low: 30°F