Jazz Network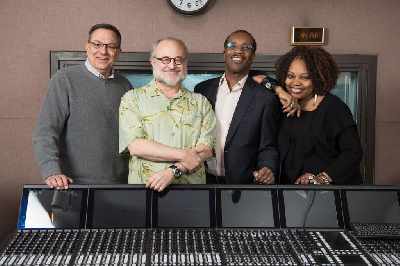 The Jazz Network hosts on KSJE include (L-R) Dave Schwan, Neil Tesser,
John Hill and Dee Alexander.
Dave Schwan was born and raised in Northwest Indiana very near Chicago, Dave Schwan has been around music all of his life. Thanks to musical family members, Dave was exposed to jazz as early as age five and never looked back. While playing and performing music on an amateur level, Dave has had a life-long fascination with the history of jazz, American music and its contributions to the world. Dave believes that jazz is a true art form and agrees with Duke Ellington's dictum: "If it sounds good, it is good." He has worked as a broadcast journalist and program host for nearly 40 years and has been associated with Chicago's WFMT-FM since 2010. In addition to music, travel is one of his main interests and that has taken him to all 50 U.S. states, Europe and Peru. Along with taking in the history of these places, Dave has always made a point to seek out their musical culture as well, something that never fails to enhance a journey anywhere in the world.
GRAMMY® Award-winning journalist Neil Tesser has reviewed, reported on, and broadcast jazz in Chicago for 40 years. He previously hosted nightly jazz programs at NPR station WBEZ-FM Chicago (1980-1996) and WNIB-FM (1974-1976). From 2001-2005 he hosted the evening-drive program "Miles Ahead" on the AM dial, and from 2005-08 he co-hosted and produced the jazz commentary program "Listen Here!" syndicated on some 100 stations. He was the first winner of the Jazz Journalists Association's "Willis Conover Award" for excellence in broadcasting, and in 2015 he received the Lifetime Achievement Award from that organization.
Tesser has authored liner notes for more than 400 albums, receiving an ASCAP Deems Taylor Award and, in 2013, the GRAMMY for his notes to John Coltrane's Afro-Blue Impressions. Author of The Playboy Guide to Jazz (Plume Books), he has contributed chapters to the anthologies Jazz: The First Century (Morrow, 2000), The Oxford Companion To Jazz (Oxford, 2000), and Discover Jazz (2011), and he edited Learning To Listen, the autobiography of famed vibraphonist Gary Burton (Berklee Press, 2013). Jazz writer for the Chicago READER from 1973-2008, he the first jazz reviewer for USA Today and Playboy Magazine's jazz critic from 1991-2002. He has also served as a monthly columnist for Jazziz Magazine and jazz critic for the Chicago Sun-Times, and his articles have appeared in The New York Times, Rolling Stone, Downbeat, and other magazines, as well as the web sites Examiner.com and Chicagomusic.org.
Tesser is a board member of the Jazz Institute of Chicago and a charter member of the programming committee for the Chicago Jazz Festival; he is also active in the National Academy of Recording Arts and Sciences (the GRAMMYs), serving on several national committees and as Vice Chair of that organization's Board of Trustees during its 50th anniversary celebration.
As a Jazz radio host, producer, Program or Music Director for commercial and public Jazz radio stations, Chicago native John Hill has gained over 35 years of Jazz radio experience.
His broadcast career started in Nashville, Tennessee, at Fisk University where he was instrumental in putting their Jazz-formatted radio station on the air. Afterward he served Detroit's WJZZ as a staff announcer and Music Director for nearly a decade.
John's next opportunity brought him back home to Chicago, programming the popular Jazz and Gospel formatted WBEE radio in suburban Harvey, IL, serving Chicago's south-side.
Currently employed at Northern Illinois University's News and Blues-formatted WNIJ, John feels extremely fortunate to reprise the relationship with Jazz he describes as a "calling."
"Ever since, out of sheer curiosity, I bought an Ahmad Jamal LP from a neighborhood grocery store rack and discovered Jazz art, or maybe it was first hearing Nancy Wilson during one of [legendary Chicago Jazz radio announcer] Daddy-O Daylie's shows…when the opportunity came to play this great music on the radio, it was really like the fulfillment of a dream. So now, joining the Jazz Network is both a privilege and a real pleasure."
Dee Alexander is one of Chicago's most gifted and respected vocalists/songwriters. Her musical interests span virtually every genre especially those related to the African diaspora including: Gospel, R&B, Blues, Neo-soul and other global musical forms. Her true heart and soul though, are ultimately expressed in their purest form through her explorations in "jazz", the one idiom that can encompass all her interests and influences. Ms. Alexander gravitated toward this musical form at an early age. She names Sarah Vaughan, Billie Holiday, Nins Simone and Ella Fitzgerald among her many major influences. Chicago saxophonist "Light" Henry Huff, as well,was profoundly influential on her by encouraging the taking of risks and the crossing of boundaries, setting her on a path that has allowed her to emerge as one of the celebrated vocal improvisers on the scene today. From a sultry traditional ballad, to a contemporary jazz-funk groove, a high-flying swing, or scat-filled romp, Alexander delivers each style with a passion and love of music that comes across in each and every note, and with a style and grace that is truly her own.
Recent career highlights include appearances at the 2016 INNtöne Jazzfestival in Diersbach, Austria; the 2016 Sons d'Hiver with Michael Zerang and Hamid Drake in Paris; the 2015 Joy of Jazz Festival in Johannesburg, S.A.; the 2014 International Jazz Festival in Liebnitz, Austria; 2014 Kennedy Center Honors with Jeff Lindberg and the Chicago Jazz Orchestra; the 2013 Newport Jazz Festival at which The New York Times called her appearance one of the year's 10 best; the 2013 Mississippi Valley Blues Festival; in 2011 at the Umbria Jazz Festival; in 2007 in "Sirens of Song" Tribute to Nina Simone and Dinah Washington (commissioned by the Jazz Institute of Chicago) and the 2014 concert Made in Chicago/Funkin' with Acoustic Soul: Tribute to Jimi Hendrix/James Brown at Pritzker Pavilion in Millennium Park; and Tribute to Abraham Lincoln: Proclamation of Hope with Ramsey Lewis at the Kennedy Center in 2010.
In addition to being a seasoned headliner in her own right, she has also shared the stage with Ahmad Jamal, David Sanborn, Earl Klugh, Gerald Albright, Roy Ayers, Joshua Redman, and Oliver Lake to name a few. Avoiding the inclination to seek to monopolize the spotlight, Ms. Alexander has lent her considerable talents as a back-up vocalist to the live performances of many other well-known artists such as Melissa Etheridge, Michael Bolton, Phil Perry and Willie Clayton. Dee Alexander leads a quartet under her own name as well as has established the Evolution Ensemble, an acoustic group consisting of string and percussion instruments, that puts a strong emphasis on original compositions.
Displaying a seemingly endless range of versatility, Ms. Alexander has lent her voice to the Muntu Dance Theater of Chicago as well as having been featured in numerous commercial spots including: Alpo, McDonald's, Pert Plus, Illinois State Lottery, Diet 7-Up, Pillsbury, Buick Le Sabre, Commonwealth Edison, Dove, and Amoco. Her television performances include Proclamation of Hope: Tribute to Abraham Lincoln with Ramsey Lewis (2011) on WTTW; Portraits in Color on WBBM; Going Home Gospel with Sue Conway and the Victory Singers featuring Patti LaBelle on WTTW; Arts Across Illinois with Malachi Thompson's Freebop Band on WTTW, and Bernie Mac's special Midnight Mac on HBO.
The Chicago group Women Driving Excellence honored Alexander as one of 2016's Trailblazing Women. In 2012, she received the prestigious 3Arts Award in music and in 2011 the NAACP honored her for outstanding achievements in the arts. She was honored in 2009 by Muntu Dance Theatre of Chicago as the Alyo Awardee for Outstanding Service to the Arts.
Chicago magazine named her "Best Chicago Vocalist" in its July 2009 issue. Ms. Alexander received the 2007 Chicagoan of the Year in Jazz Award and in 2008–10 Jazz Entertainer of the Year from the Chicago Music Awards. She a longstanding member of the Chicago chapter of the Association for the Advancement of Creative Musicians (AACM) and Chamber Music America.
In 2009, Alexander's Wild Is the Wind was released on BluJazz and received a five-star rating from DownBeat magazine which named it among the Top Ten recordings of the new millennium. Her latest release on BluJazz, Songs My Mother Loves, continues to receive rave reviews. There is seemingly at this point no end in sight for Dee Alexander's celebrated musical journey exploration on which she is so generously taking us all along with her.
Farmington, NM

Sunny

High: 50°F | Low: 19°F

Durango, CO

Sunny

High: 48°F | Low: 18°F

Shiprock, NM

Sunny

High: 50°F | Low: 23°F

Cortez, CO

Sunny

High: 52°F | Low: 25°F

Santa Fe, NM

Sunny

High: 52°F | Low: 30°F